Survival mode
This is a classic Deathmatch situation. Everyone on the map tries to defeat everyone else. Kills indicates how many people have already been defeated in this round, Count indicates the total number of defeats needed to end this round prematurely.
Survival interface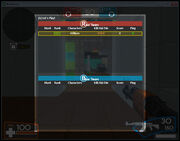 Pressing and holding down Tab will bring up this interface. All players, including Ranks and names will be listed here. You will also be able to check how many other players you have defeated (Kills) or wounded (Assists) and how often you have died (Deaths). Score will show your current score and with Ping you can see if your game is running smoothly.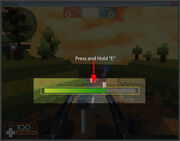 Some map architects install cannons which later can be used by gamers playing the map. Press and hold down the action key E to mount the cannon, press Spacebar to dismount.